When it comes to classic gin cocktails, the Tom Collins is right up at the top.
The drink has become so popular it has a kind of glass named after it (Collins glass).
Other than the martini (another gin classic), few other cocktails have specific glasses named after the drink. Jerry Thomas, known as the father of American mixology, first wrote about the Tom Collins back in 1876 and is named after the "Tom Collins Hoax," which popped up in New York when individuals would attempt to trick others into acting foolish against their knowledge.
However now, almost 150 years later, the Tom Collins is alive and well, remaining one of the top classic cocktails still in existence.
The Tom Collins is not only a true gin classic, but it is also a relatively simple drink to make. In may ways it is a sophisticated gin lemonade, so if you're interested in a refreshing drink during the warmer months, this is the way to go.
Ingredients
Tom Collins Ingredients
The ingredients for the Tom Collins are simple, so it is important to rely on quality ingredients to make the cocktail.
60ml Gin
30ml Fresh lemon juice
20ml Sugar syrup
Club soda
Orange slice garnish
Instructions
How to Make a Tom Collins
To make a Tom Collins you'll want to add the gin, fresh lemon juice and the sugar syrup (also referred to as gum syrup) into a Collins glass filled with ice, then top it off with club soda and garnish with an orange slice.
The original Tom Collins would have been served in a wine glass, which you are more than welcome to do, although it does seem a travesty to serve a Collins cocktail in anything but a Collins glass.
Tom Collins Nutrition Facts
You are mixing gin with sugar syrup, so it will be higher in calories and carbs than what you might find in a martini. However, when compared to other prominent cocktails (especially modern cocktails that rely heavily on mixers and sodas), this is still relatively low in calorie count.
177 Calories
0.1g Total Fat
0mg Cholesterol
9.1mg Sodium
32mg Potassium
8.2g Carbohydrates (3%)
0.3g Dietary Fiber (1%)
6.8g Sugars
0.1g Protein
13% Vitamin C
2% Calcium
Tom Collins - Best How To Make Video
Best Gin For a Tom Collins
The Tom Collins cocktail utilizes a fresh lemon flavor, so you want to look for a gin that blends well with this. There will be some strong gins that may attempt to overpower the lemon. This may be something you're interested in, although ideally the gin and the lemon work hand in hand.
Now, if you want to go with a gin that would have been likely used during the original creation of the Tom Collins you can utilize something like an Old Tom Gin (and hey, both have "Tom" in the name, so perhaps you'll find it is the perfect match). Other gins like Plymouth or Bombay Dry Drin would work well. Beefeater is a fantastic gin for this cocktail as lemon peel is one of the botanicals used within the gin, so it will more naturally connect with the fresh lemon within the cocktail.
As this is a cocktail that does rely on fizzy lemon flavor, you don't need to purchase a top end gin if you don't want. Top shelf gins are perfect for martinis and other cocktails where the gin not only is the dominating element, but there isn't carbonation or strong citrus notes within the cocktail. As this is a fizzy cocktail, something less expensive with a reduced juniper flavor works well (which is another reason why Beefeater is a go to gin).
Tom Collins Variations
There are a number of Tom Collins and Collins alternatives to consider. While the classic is always a staple, these are all worth giving a try as well.
Cranberry Collins
For anyone who enjoys a splash of cranberry in their cocktail this is a fantastic option. It uses the base Tom Collins and spruces it up a bit, using cranberry to help offset some sweetness of the lemon. This cocktail becomes tangy, sweet, and sour, so it checks off most of the refreshing boxes you might want. Plus, if you're making cocktails for a group of people and some want a traditional Tom Collins while other want the cranberry version, it isn't difficult o just add the secondary ingredients for those looking for a cranberry Tom Collins version.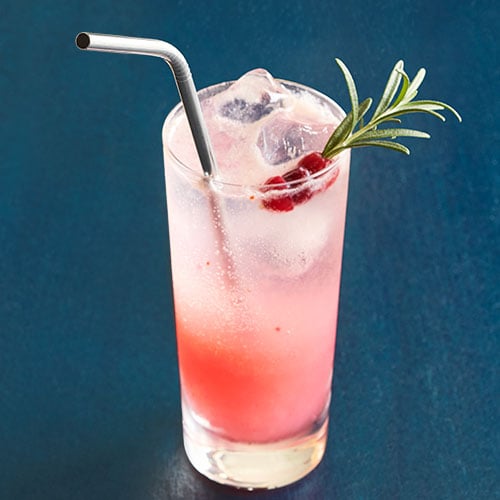 Blueberry Tom Collins
This is similar to the cranberry version, only instead you're using blueberry. Now, it is a bit more challenging to find blueberry juice, so instead, you'll sweeten this cocktail up with a hint of honey and with actual blueberries. One great way to keep this cocktail refreshing during the warmer months is if you use frozen blueberries as ice. The blueberry Tom Collins is as delicious as it is refreshing. It's also a great cocktail for those individuals who are not the biggest gin fans. Adding in some fruit into a cocktail is always a great way to bring people around to the refreshing and sophisticated nature of gin.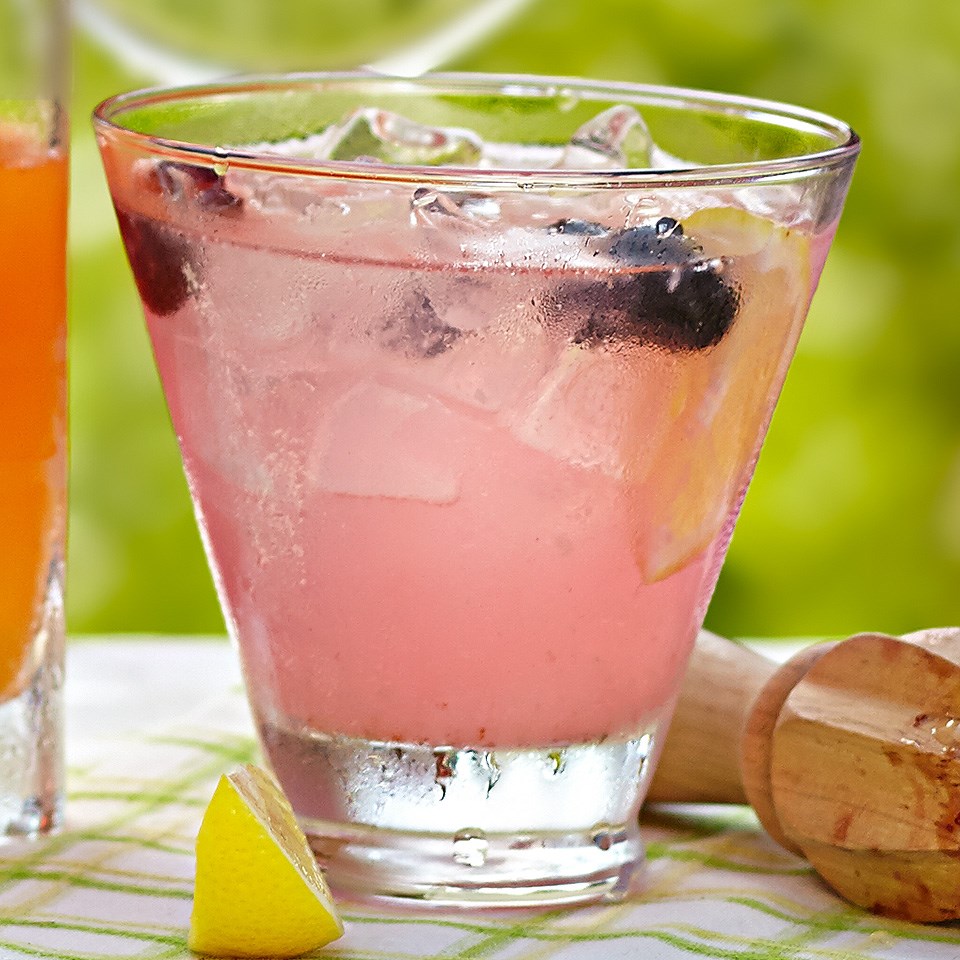 Grapefruit Tom Collins
As you can tell from the pattern here, there are all kinds of Tom Collins you can make from varying fruits. However, in terms of fruit that blends seamlessly with gin, few other options beat grapefruit. Grapefruit has the tart citrus flavor that blends exceptionally well with gin. You'll need to do a bit of experimenting with the gins you combine into the cocktail, but adding a touch of grapefruit is a great option. It's also similar to what a cranberry Tom Collins offers, just with a bit less sugar. If you're a fan of a traditional Tom Collins, the grapefruit TomCollins is worth checking out.
Blackberry Tom Collins
The blackberry Tom Collins may sound like all the other Tom Collins variations so far, but it is a little different. Yes, you're using another fruit, but unlike the others, with this cocktail, you will start with blackberries in the Collins glass, muddle it up with a pinch of sugar, then add in the ingredients. This way you have the actual fruit in your glass, giving off an excellent taste that isn't as pronounced as raspberry, and yet isn't as tart like a cranberry. If you're looking for a fruit-based Tom Collins, this is well worth trying.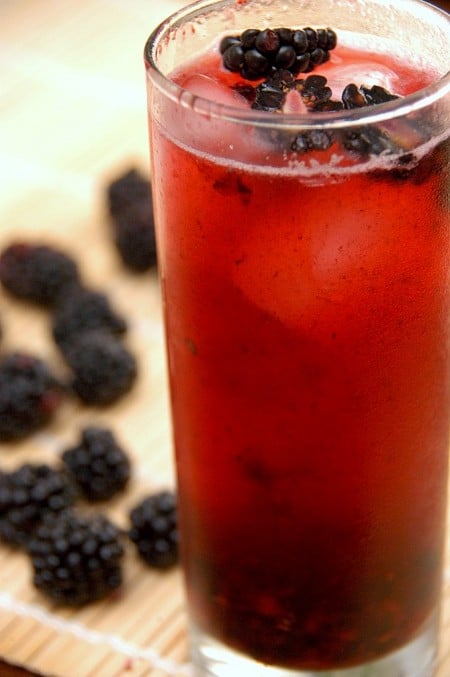 Vodka Collins
As is the case with most classic gin cocktails, there usually is a vodka variation available. This is true with the Tom Collins. The vodka Collins swaps vodka in for the gin. Some will also choose to garnish it with a maraschino cherry to help bring some additional sweetness and flavor other than the sweet and sour mix (which can sometimes overpower this cocktail as the vodka doesn't bring much of its own flavor). A vodka Collins you don't need to go with a super high end vodka (something like a Sky vodka is great as it's affordable yet of a nice quality). You can experiment with small batch vodkas too, as you'll find some small batch options give you some excellent and even unusual flavors you won't find in other areas.