For the better part of the early 20th century, gin stood as the most prominent and popular spirit in the world. The unique botanical notes of the liquor offered something truly different from other spirits. Due to this, many of the most famous and classic cocktails in the world are made with gin. While most gin cocktail recipes come from either the UK or the United States, there are a number of gin drinks spanning from other regions (see the Singapore Sling). The Negroni is an Italian cocktail made from gin and, in many ways, is a sweet Italian martini. So if you're interested in indulging your senses with this world-famous cocktail, here's everything you need to know.
The Negroni hails from Florence, Italy, where it was first mixed at the Caffe Casoni back in 1919 (the cafe still exists, although now it is called the Caffe Roberto Cavalli). While visiting the bar, Count Camillo Negroni asked the bartender to bump up the alcoholic strength of his go-to cocktail, the Americano. To do so, bartender Fosco Scarselli removed the soda water and replaced it with gin. Now, 100 years later, the Negroni remains a classic cocktail known around the world.
Ingredients
The Negroni is an easily made cocktail. It contains just three ingredients, with each pour the same amount. It is an excellent cocktail option for those individuals who enjoy a martini but would like it sweeter.
25ml Gin
25ml Sweet vermouth
25ml Campari
ice
Orange slice garnish
Instructions
How to Make a Negroni
To make the Negroni you will need to add the gin, sweet vermouth, and Campari into a cocktail shaker of ice. Shake, then strain over a rocks glass, then place one large piece of ice into the glass and top with a slice of orange (when available select a blood orange as the deeper flesh color stands out against the drink).
Negroni Nutrition Facts
As the Negroni does not use any sweetener (outside of the liquors used within the cocktail) the drink is relatively light on calories and carbs. When looking for a cocktail that has both flavor and is light on calories, the Negroni is one of the best options available.
131 Calories
0g Fat
0.03g Sodium
4g Carbs
4g Sugar
0g Protein
Click here & Learn more about the Health benefits of gin
Negroni - Best How To Make Video
Best Gin for a Negroni
When making a Negroni you will want a gin that blends nicely with the Campari spirit. Both gin and Campari are botanical liqueurs, so it is possible to pick out a gin that will beautifully compliment the flavors within the Campari.
Campari is a liquor that is made from both fruit and herbs. It is most comparable to a liquid form of bitters (or perhaps a better description is that bitters are a concentrated version of Campari). Depending on the Campari you purchase the alcohol content will vary between 20 and 29 percent ABV, so while not at the same level of gin, it does offer more of an alcoholic kick than most mixers.
According to alcohol experts at the San Diego Reader, finding the best gin for a Negroni isn't just about finding the right gin. It's about finding the right gin and vermouth pair. Both reviewers overwhelming selected Tanqueray as the gin of choice with Cocchi as the desired sweet vermouth. The second highest rated mixture was Tanqueray and Dolin for sweet vermouth. Hendrick's also rated fine, although far behind that of Tanqueray. Beefeater is another fine option for a Negroni. It is able to handle stronger sweet vermouths and not become overwhelmed. The sweet vermouth should accent the drink, not take over. If you're finding the sweetness becomes overwhelming you likely need a different gin.
Negroni cocktail variations
There are a number of Negroni variations, some of which do not include gin. Gin is an original and offers the most complexity, as the aromatic and botanical elements of the gin stand out above other spirits. However, if you're interested in sampling other flavor profiles, feel free to test out these variant cocktails.
Negroni with Bourbon
The combination of bourbon with sweet vermouth and Campari gives this cocktail almost a Southern Comfort taste to it, where there is heightened sweetness over a traditional bourbon cocktail. It isn't as exciting for the tongue as what a gin cocktail provides, but in some cases that may be exactly what you're looking for. Bourbon itself has a warmer taste to it. However, you'll want to select a bourbon that isn't overly sweet, otherwise, you'll overdo it. Plus, a Bourbon Negroni is already almost the spitting image of a Manhattan, only instead of Campari, you're using bitters.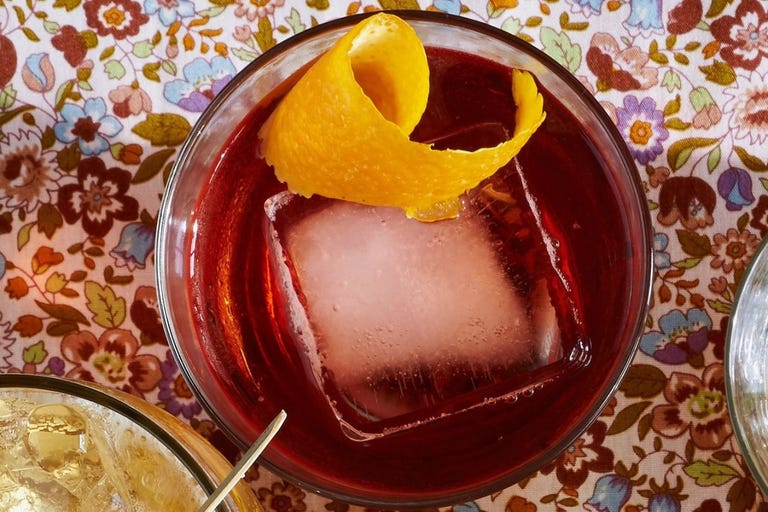 Negroni with Whiskey
Much like the bourbon Negroni, the whiskey Negroni (or whiskey Negroni, if you're using a Scottish, Canadian, or Japanese whiskey) replaced gin with whiskey. This order usually relies on a rye whiskey, but really it's up to you. And again, this particular cocktail is essentially a Manhattan in a different glass while using Campari instead of bitters. But the added liquid does give you not only a larger drink but more alcohol with the drink. If you're a whiskey fan you'll want to experiment to see which of the cocktails you like better.
Aperol Negroni
With the Aperol Negroni the cocktail returns back to its gin roots, only instead of Campari you will use an Aperol liqueur (and swap out the orange slice garnish for a lemon twist). This version of the Negroni is a bit milder. Aperol has half the alcohol content of Campari, so right out of the gate, it isn't as strong. It also has a bitter orange and rhubarb flavor profile (with a handful of other spice notes), as compared to Campari, which is much more floral and bitter. It is a pretty interesting take on the cocktail and well worth trying out.
Campari Negroni
If you like bitter aperitifs, this recipe will be your new favorite cocktail. It reduces the sweet vermouth and adds more Campari. Serve it in an old-fashioned glass filled with ice cubes and an orange wedge garnish.
Vodka Negroni
Take your Negroni for a spin through Eastern Europe! This Negroni version higlights vodka instead of gin. Featuring a Polish rye vodka, this Negroni has a vibrant note that makes it a popular year-round drink. Serve equal parts Campari, vodka and sweet vermouth in a coupe glass over one large cube of ice. Add an orange peel twist for garnish.
Tequila Negroni
As is the case with most cocktails, you can swap out gin and replace it with any other spirit. In this case, you'll remove the gin and swap in tequila. Now, the kind of tequila you select will play a very big role in the overall complexity of the drink (you can also swap in vodka, although with the lack of true flavor from vodka this cocktail can become overly sweet). The standard recipe for a tequila Negroni calls for a blanco (silver) tequila. While this helps maintain a similar color as a gin-based Negroni, Blanco does not have as much flavor as other options. Gold tequila options will have more complexity as these are aged longer, but it is important to not go with cheaper gold tequilas. That is because these less expensive gold options obtain the color through food coloring and not through appropriate aging. You may also want to consider mescal, as each mescal offers a unique taste that you won't find in tequila, but ultimately it is up to what you're looking for in a tequila Negroni.
Frozen Negroni
If you've been looking for a way to take the Negroni from a nighttime cocktail and serve it pool side during the day, here's the variation for you. You'll use the same basic ingredients (although you'll boost the gin level because you'll be using more ice) and then blend it in a food processor or blender for 30 seconds and then serve in a rocks glass. The sweetness of the cocktail helps carry this drink while the added gin gives it the desired punch. Plus the red looks fantastic by a pool. Sometimes there's nothing like an adult slushy when reading a book by a body of water. The frozen Negroni is a nice option when you want something different from the standard frozen margarita or daiquiri.
Negroni Bianco
Similar to the Aperol Negroni, the Negroni Bianco another European liqueur and brings it into the fold. This particular cocktail version uses a Dry Gin, Suze, and Lillet Blanc. If you're a gin martini fan, you might recognize Lillet Blanc as the additional spirit used in the Vesper martini (aka the James Bond martini). Suze is a French liqueur that has a spicy, bitter, and fruity taste to it. Combined with Lillet Blanc, which is an aperitif wine, gives you a truly unique take on the classic Negroni. The flavor profile is different from the classic as you're removing two of the three main ingredients, yet substituting two similar ingredients. Think of it as the distinctive brother to the classic.