Few cocktails are as prominent and widely known as the gin and tonic. Much like rum and Coke, it is one of the few cocktails that specifically states the ingredients while ordering the drink. However, unlike the rum and Coke, and gin and tonic has a far superior backstory. During the 1700s, most of the world's trading took place by ship, and the British East India Company stood as a primary distributor of goods. Malaria became a problem for individuals on ships returning from India, so the need to create a preventative measure that could also cure the disease was necessary. Medical professionals at the time found that quinine would do this, so members of trade ships began drinking the medication mixed in tonic water. However, it has an especially unpleasant taste, so British officers began mixing sugar, water, lime, and gin together in order to make it easier to consume. This became the origin of the gin and tonic.
There are times where you just don't want anything over the top with your drink of choice. You want to know what to expect when ordering it from a bar, and how it's going to taste. The gin and tonic is one drink that won't surprise you. It's a straight forward cocktail that requires just two ingredients. Add the wedge of lime on top and you'll always know what you're ordering, regardless of the bar.
As you are using only two ingredients, this is the kind of cocktail where the quality of the ingredients matter, so investing in a quality gin is important. Otherwise, the entire cocktail will suffer.
Ingredients
Gin and Tonic Ingredients
2oz Gin
4-5oz Tonic water
Lime wedge
Instructions
How to Make a Gin and Tonic
Probably the biggest shift from one bar to the next when ordering a gin and tonic is the kind of glass it comes in. Some will provide you with a gin and tonic in a highball glass. Others will offer it in a rocks glass. Once the glass is selected it is filled with ice, with the gin poured over top. Tonic water is then used to fill the rest of the glass (which is why there's an ounce difference in the tonic water addition). The cocktail should be stirred and then garnished with a wedge of lime.
Realistically it is a good idea to avoid shaking this cocktail. Shaking will bruise the gin, which in turn will bring out a harsher taste. While you may find you like the shaken taste, in general, it is better to avoid it unless requested. Because the gin flavor is what stands out with this cocktail it is ideal to keep the gin flavor as unblemished as possible.
Gin and Tonic Nutrition Facts
The gin and tonic is relatively light on calories. In fact, when comparing spirits, gin is one of the best options when considering calorie count. The average 1.5-ounce pour of gin is under 100 calories. This is less than most light beers on the market. With the gin and tonic, just about all of the calories come from the gin. The exact nutritional information will vary somewhat from one gin to the next, but most are within a reasonable distance of each other.
These nutritional facts are without the lime wedge (as it's difficult to know how large of a lime wedge is used, whether you squeeze the juice out yourself (or even eat the lime), or let it sit primarily as garnish.
143 Calories
0g Total Fat
0mg Cholesterol
17mg Sodium
12.1g Total Carbs (4%)
12.1g Sugars
Click here & Learn more about the Health benefits of gin
Gin and Tonic - Best How To Make Video
Best Gin For a Gin and Tonic
The best gin for a gin and tonic is an extremely personal choice. Probably more so than most other cocktails. This is because the true flavor of the gin stands out. It is the primary flavor of the drink, so the gin used is extremely important. It alters your drinking experience, so you need to determine what kind of gin taste profile you're interested in. Finding the right gin for a gin and tonic will take some experimenting, but in the meantime, here are some of the best-recommended gins.
According to Super Call, if you're going for a classic gin and tonic taste, go with Tanqueray. Tonic water is a bit bitter and the juniper in a Tanqueray cuts throughout without being completely overpowering. If you are a fan of the juniper taste, Sipsmith VJOP is the way to go. It's extremely pronounced with its juniper, so this is likely a gin you'll either completely love or completely hate. Plymouth Gin is a great option when you're not on the juniper boat. Plymouth is a classic gin, is lighter and uses a floral complexity in its production rather than relying on the juniper.
If you're on a budget you should almost always go for the Beefeater. It's inexpensive and offers an excellent gin profile without going over the top with juniper. Some will recommend Gordon's for the economy friendly consumer (Gordon's and Tanqueray are made by the same company, so there are similar flavor profiles), but Beefeater is a bit smoother.
A few other gins to consider include Hendricks, which offers an interesting, complex taste, while there are some quality American gins to pick from. FEW is one example, as is Bluecoat Gin. You may also want to give your local distiller a try as you may discover some unique flavor compounds in the local and regional gins. Many of these local distillers use local flavors and ingredients you won't find in the mass-produced gins. Take Dogfish Head Gin, for example. The company, which is best known for its beer, uses hops as its botanical, so for beer lovers it does have that hoppy IPA taste to it.
Gin and Tonic Variations
Gin opens itself up for the infusion of other flavors, so there are a number of martini options out there. You can opt for a classic vodka martini, which substitutes vodka for gin, and then there are drinks that are only called a "martini" because of the glass. However, here are some of the most popular gin martini variations to consider.
Spiced Gin and Tonic
The only difference between this spiced gin and tonic and a regular gin and tonic is the use of spiced tonic water. The spiced tonic water may need to be made at home (although there are a handful of options out there that are pre-made). It is a nice way to add a bit of a kick to the drink without fully changing it (although it is recommended to use a mild chin like Bluecoat or Beefeater, otherwise the stronger gins will compete with the spiced notes of the tonic water.
Cucumber-Rosemary Gin and Tonic
If you're looking to add a burst of refreshment to your gin and tonic (which is already known as a summer drink), the cucumber rosemary gin and tonic is the way to go. This is a solid option if you're a big gin and tonic fan but want a new flavor profile to spruce up your cocktail. The fresh sprigs of rosemary combined with cucumber do exactly that. Many will choose to muddle the cucumber in the bottom of a glass before adding in the rest of the ingredients. This way, you can take full advantage of the refreshing cucumber added in the drink.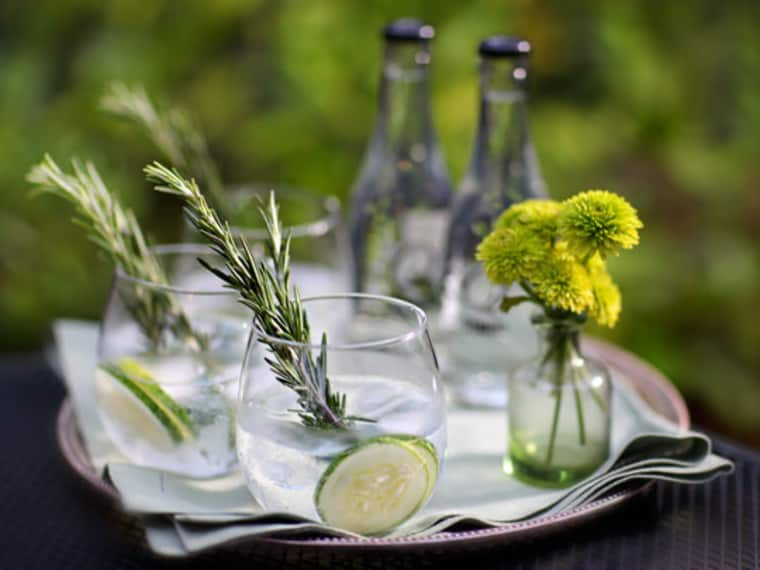 Blood Orange Gin and Tonic
This cocktail just looks great when served up. There's something about a ruby red cocktail that makes it look appealing (especially during the summer months). A gin and tonic already has citrus elements to it, so the blood orange gin and tonic fits right in. With this cocktail you'll combine blood orange juice with your standard gin and tonic water. You'll also add in a few dashes of orange bitters to really kick up that flavor profile. As you're not really taking away from the gin or the tonic water, you'll probably need a larger glass here, but whatever the glass size, this is a variant worth trying.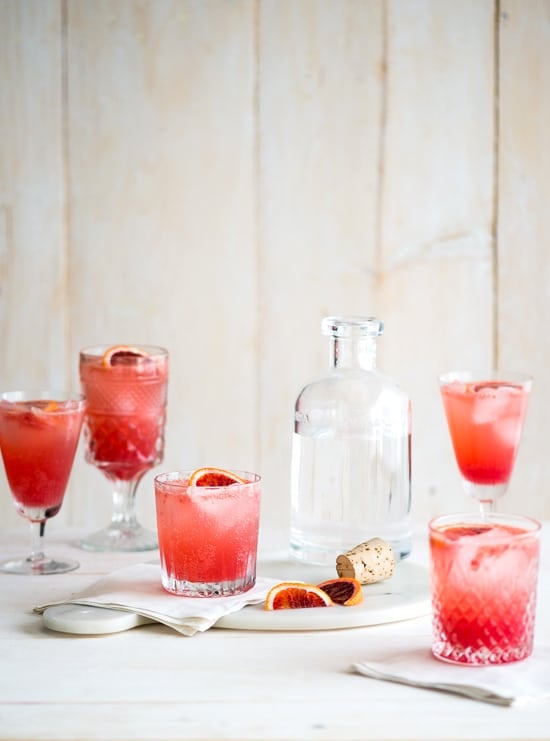 Grapefruit and Basil Gin and Tonic
Much like the cucumber and rosemary, the grapefruit and basil gin and tonic brings a touch of freshness to the classic cocktail. In fact, there isn't much difference between the two. You'll add in a slice of pink grapefruit instead of a lime wedge and slip in a few basil leaves into the drink. Other than that, it's exactly the same.