The beauty of gin is, probably more so than any other spirit on the planet, it truly reflects where it is made. It is why you discover more than just a new gin when visiting distilleries around the world. You discover a bit of that city and country's history. In many ways, the very soul that makes it what it is. That is what we found when visiting the Pelter Distillery. Everyone has their own unique preference for the botanicals used within the gin-making process. But when the spirit hits your tongue and you let the tastes fill your mouth, you'll feel more connected to the city, its past, and it's future. 

The Story Of The Pelter Distillery
In a place as historically significant as Israel, you shouldn't be surprised as to the region's connection with alcohol. The very first beer was accidentally created in Mesopotamia (what is now modern-day Iraq), and the concept of wine and alcoholic spirits spread throughout the region of the world, including Israel. Wines and other fermented spirits hailed from the region thousands of years before pushing upward to Europe (the expansion of the Egyptian and Roman Empires as well as the growth of trade routes is responsible for this, but that's a different story). 
Thousands of years later, Sam Pelter and his wife Tiva moved from the United States to Tzofit, a small agricultural village of Israel. Together they started a farm, establishing greenhouse flowers as well as growing olive and peanut trees. However, while the family started the farm in the 1970s, Sam's father and brother distilled moonshine back to the time of prohibition in Detroit (1920s).
This passion for farming eventually intertwined with a love of wine, as Tal Pelter, Sam and Tiva's son, studied it viniculture in Australia. In 2001, the family started laying the foundations of the winery. The winery ballooned over the following decade, expanding from a 4,000 bottle operation to 150,000 operation. In 2014 Tal launched a second winery (named Matar, which produces kosher wine) which made it desirable not only in Israel but throughout the world. 
In 2013, brothers Tal and Nir founded the Pelter Distillery, importing 45-year-old cognac still from France (with production beginning in 2014). As a winery, the company initially started distilling brandy, and then made the move to produce gin. 
Exploring the Distillery And Discovering The Gin
Despite producing similar products, whenever visiting a gin distillery you'll find there are a number of variables at play. This includes not only the equipment but the distillation process itself. As the distillation equipment came from a former cognac facility in France there is an essence of its past life that breathes into the new gin. Similar to cooking with cast iron, when well taken care of, every single batch is better than the last, because it contains flavor notes of every past distillation.
At Pelter, the gin is distilled three times, starting first with pink lady apples (picked from neighboring farms). Additional botanicals are introduced throughout various stages of the three distillations. 
Some of the botanicals used, most of which are locally sourced in Israel, including Israeli sage, iris root, fresh lemon leaves, dog rose bulbs, fennel, and juniper. Following the third distillation, the gin is left to age for six months. This allows for proper resting prior to bottling and shipment. 
This ends up lending a sweet, well-balanced taste to the gin that is perfect for most cocktails. While a find spirit to enjoy neat, it does go excellent with one part gin, two parts ginger beer, and a squeeze of lime to top it off.

Get To Know Pelter Distillery
Gal Yaniv is the CEO of the winery and distillery. He has been a pivotal figurehead in the development of the company's distillery and helping it grow. The right gin isn't just random ingredients from a given location. It's understanding how these ingredients work together, much like a slow-cooked meal where the flavors are left to mingle for extended periods of time.
Gal first found a connection with Hendricks Gin, so Pelter Distillery is inspired by it. However, it is by no means a replica. Instead, it took the basic idea of its flavor palette and transformed it using regionally produced botanicals. Gal says, "A great gin is one which you can enjoy drinking neat, if you need to start adding things, the gin is not perfect." In other words, every botanical needs to have a purpose. If a flavor is not adding a necessary complexity to it the botanical is removed. 
This is one reason why the company is starting to experiment with the use of old oak barrels. This is a trend that is just starting to spread in gin distilleries. The wood adds unique flavors to the gin that is more commonly found in spirits like whiskey or rum. While not aged as long, the oak barrels give off a darker color as well as flavors like caramel, oak, and vanilla.
If you have never sampled an oak-aged gin you'll discover the wood does mask some of the bitter juniper flavor, which for some can be a welcome drinking experience (it is an exceptional bridge to spirit drinkers who have yet to find the right gin that meets their needs).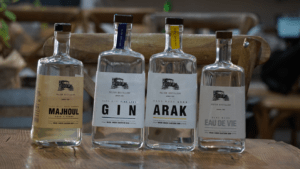 An Excellent Entry Into The World Of Gin
Distribution of the Pelter gin is still relatively limited to the country, but it is starting to expand. If you'd like to learn more about the distillery, winery, and whether it is available in your area, make sure to check out the Pelter Distillery and Winery website. And, if you're ever in Israel, feel free to stop on by. Tours are offered and you can experience first hand how the gin is made. And, most importantly, you can see the country. From the earth you walk on to the local farms, every bottle of Pelter gin is a showcase to the surrounding area.